See in the new year in style: What's happening this weekend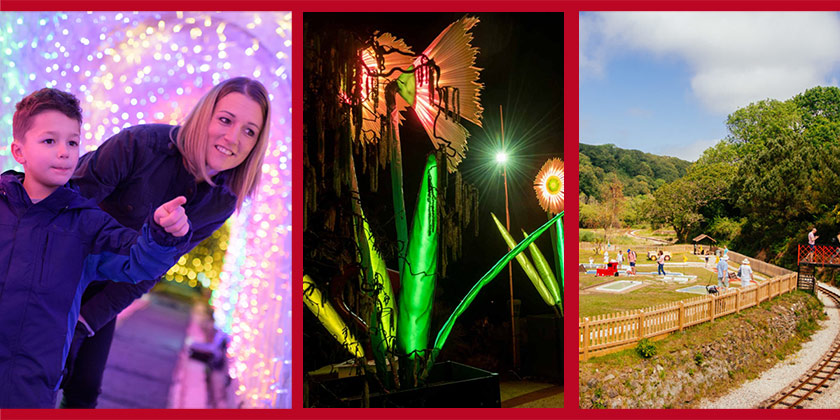 As 2022 approaches, there are plenty of things to do to get the New Year off to a flying start!
From train rides to light shows, here is just a selection of things happening this weekend:
Heligan Night Garden
Take this final opportunity to visit Heligan's magical Night Garden and contribute to the garden's charity efforts as it donates all admission fees on January 1 to Cornwall Hospice.
Again in collaboration with The Lantern Company, Heligan invites visitors to walk the enchanting 1.5km trail and see the garden in a different light.
Festive refreshments will be rolled out for what promises to be a wonderful winter's evening to get you and your family in the Christmas spirit.
The route is plotted to take approximately one hour and it is advised that you come dressed in anticipation of whatever Cornish weather might bring!
The event ends on January 2 – don't miss out! For more information and to book see: https://www.heligan.com/events/heligan-night-garden-an-enchanting-lantern-experience
Lappa Valley
Lappa valley have oppened their family-friendly railway experience for the New Year festivities.
Why not book a slot to take the train to East Wheal Rose, where Lappa Valley has its indoor play area for little ones to let off steam.
Whilst at that stop enjoy refreshment at the cafe before journeying taking a trip on the Woodland Train and enjoying the outside play facilities too!
For more information and to book tickets visit: https://www.lappavalley.co.uk
Shipwreck Treasure Museum- Tunnel of Lights
Take a trip to the Shipwreck Treasure Museum in Charlestown for a day out that will inspire your little ones' imaginations!
Walk through the 8,000 exhibited items collected from over 100 wrecks and discover the situations that led to them being lost.
What are they stories behind all of these fantastic discoveries? Scary, awe-inspiring or just mysterious, the museum makes a great visit for you and your family this weekend.
Book now and visit before January 9th, to take part in the popular, festive Tunnel Of Lights Experience, where you and your family will walk an underground wonderland of magical lighting and encounter icebergs and frozen shipwrecks!
For more information and to book tickets see: https://www.shipwreckcharlestown.co.uk/christmas-tunnel-of-lights-arctic-adventure/
National Maritime Museum Cornwall – Lanterns and Lights
This weekend marks the last opportunity to explore the magical Lanterns and Lights exhibition at the National Maritime Museum.
Take your family on quest to find all of the different lanterns illuminated in the museum and take part in festive crafts to see the new year in with a bang.
The magical atmosphere of the museum all lit up is only available to visitors until January 2, so don't miss out!
For more information on any of these events and to see what else is happening in Cornwall throughout January, see our digital edition below: