What's on: Rainy day indoor play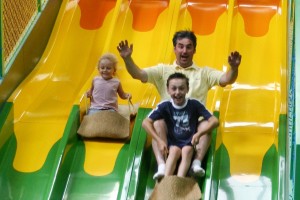 Whilst we are hoping for a bright weekend, rainy days don't have to spell the end of family fun.
There are so many opportunities for indoor play in and around Cornwall- here are just a few suggestions:
Wheal Play- Heartlands
Have fun in the mining-themed indoor play centre at Heartlands Pool, open Thursday to Sunday.
For more information click here.
Jungle Barn – Paradise Park, Hayle
Climb nets and rocket down the slides at Paradise Park's Jungle Barn.
For more information, click here.
Raze the Roof – Penryn
Raze the Roof has had a make-over and there there has never been a better time to visit!
From toddler games to VR experiences, why not book a visit?
Click here for more information.
Playzone – Penzance
Hidden away in St Johns Church, Playzone is a nautical themed gem!
Jungle Jacks – Newquay
A brilliantly exciting indoor play, complete with cafe and free wifi!
Enjoy exclusive discount at Jungle Jacks, when you use BBP01OFF at checkout.
Click here for more information.
If you fancy a change from indoor play, perhaps try another wet weather family activity:
Axe-throwing with the Celtic Tossers!
Head to Truro, Plymouth or the new range in Exeter for a celtic axethrowing adventure!
Great fun and a very competitive family challenge- start off small and end the session with an axe-throwing contest.
Reach new heights at Granite Planet
Why not try out rock climbing with the Granite Planet climbing centre in Pernyn.
All sessions are to be pre-booked, with sessions on bouldering and rock-climbing available for those five and older.